THCP Blend Gummies — Strawnana
This THCP blend is truly an out of this world experience. Get the ultimate in relaxation and pain relief with our Strawnana THCP Gummies. Crafted for potency, these gummies offer unparalleled strength. Indulge in the soothing blend of flavors while unlocking a new realm of calm and comfort. Your journey to tranquility just got a whole lot stronger. Due to the strength of this blend, we recommend starting small.
About THCP Blend Gummies — Strawnana
- 25mg Delta 8, 10mg Delta 9, 1mg THCP per gummy - 25 gummies per bottle - 900mg per bottle - Strawnana flavor - Lab tested & sourced from 100% USA hemp
Suggested Use
This blend is very potent. We recommend starting with 1/2 gummy and waiting at least 45 minutes before taking more. The onset is gradual but with a heavy impact as the effects kick in. If you're looking for an intense mind and body experience, these THC-P Strawana Gummies are exactly what you need!
Shipping
We offer discreet packaging and free shipping on every order over $90. Our THCP gummies ship to all states in the US. Please allow 24-48 hours for processing, and 3-5 days for ground shipping.
Discovered in 2019, THCP is the latest and greatest discovery in the world of cannabinoids. It's also the strongest one yet, known to be over 10x more potent than Delta 9 THC. The rule of thumb is: the more carbon atoms, the stronger the cannabinoid interacts with your endocannabinoid system, and the more potent the effects. THC has a five-carbon atom chain, while THCP has seven carbon atoms. The only seven carbon cannabinoid!
The effects are very intense, but also very therapeutic. Our users report using it as a strong sleep aid, incredible relaxation, and the ultimate go to for pain relief. Ditch that nightly glass of wine and swap it for this THCP blend. You won't be disappointed!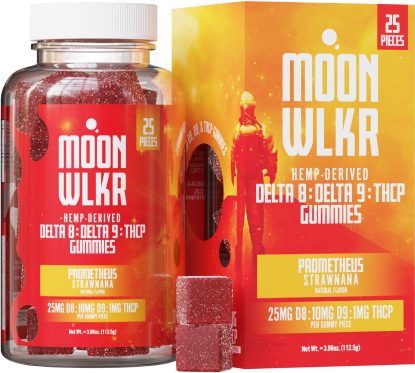 Customer Reviews
Write a Review
Ask a Question
10/01/2023
Midnight T.

United States
One potant little gummy that'll kick your arse Guaranteed
Whatever your tolerance, 2 of these will knock your dick in the dirt 90 minutes later. I took one more gummy this morning. Only weed I had in close to 24hrs. Still high. This stuffs for real, DO NOT UNDERESTIMATE. In fact, glad I had no plans for next day, as I could really gauge the effects..the medicinal effects of these are awesome due to the fact it's long lasting, helping with pain, anxiety, insomnia, depression... The taste is a not pleasant ...a sweet something, I don't taste strawberry or banana...but the effects? I prefer they were non flavored...just sweetened, as THC is bitter AF. Every pot lover should try at least once. And every MMJ patient should have a jar for for strong "break though" meds are needed. After 30 years medicating, just one advice..take it very slow until you know how it will effect YOU. We are all different.
10/01/2023
Jeffrey S.

US
Gummies
Could someone show me how I use my points?? And l CANT TAKE ANY PICTURES!!!
09/30/2023
Elizabeth W.

US
I love em!
Very very relaxing
09/28/2023
James H.

US
These make my…
Friday's something I REALLY look forward too. When I take these, I'm high for two days. Wut? Yep! One gummy Friday, and no need Saturday. The perfect weekend getaway in a single terpy tasty cube. Why are you still reading this? Buy it already. I high-ly recommend (-;
30 DAY MONEY
BACK GUARANTEE
If for any reason, you don't absolutely love THESE,
we will give you a full 100% hassle-free refund.