THCP Blend Gummies — Mango Punch
This THCP blend is truly an out of this world experience. Get the ultimate in relaxation and pain relief with our Mango Punch THCP Gummies. Crafted for potency, these gummies offer unparalleled strength. Indulge in the soothing blend of flavors while unlocking a new realm of calm and comfort. Your journey to tranquility just got a whole lot stronger. Due to the strength of this blend, we recommend starting small.
About THCP Blend Gummies — Mango Punch
- 25mg Delta 8, 10mg Delta 9, 1mg THCP per gummy - 25 gummies per bottle - 900mg per bottle - Mango flavor - Lab tested & sourced from 100% USA hemp
Suggested Use
This blend is very potent. We recommend starting with 1/2 gummy and waiting at least 45 minutes before taking more. The onset is gradual but with a heavy impact as the effects kick in. If you're looking for an intense mind and body experience, these THC-P Strawana Gummies are exactly what you need!
Shipping
We offer discreet packaging and free shipping on every order over $90. Our THCP gummies ship to all states in the US. Please allow 24-48 hours for processing, and 3-5 days for ground shipping.
Discovered in 2019, THCP is the latest and greatest discovery in the world of cannabinoids. It's also the strongest one yet, known to be over 10x more potent than Delta 9 THC. The rule of thumb is: the more carbon atoms, the stronger the cannabinoid interacts with your endocannabinoid system, and the more potent the effects. THC has a five-carbon atom chain, while THCP has seven carbon atoms. The only seven carbon cannabinoid!
The effects are very intense, but also very therapeutic. Our users report using it as a strong sleep aid, incredible relaxation, and the ultimate go to for pain relief. Ditch that nightly glass of wine and swap it for this THCP blend. You won't be disappointed!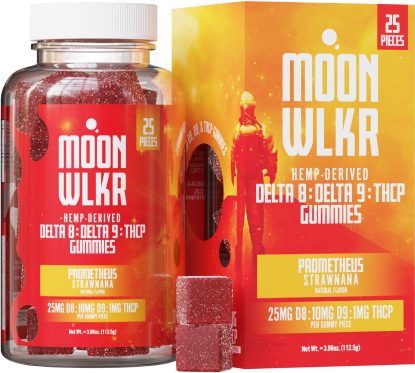 Customer Reviews
Write a Review
Ask a Question
10/01/2023
Chris P.

US
Very enjoyable
This is a great way to relax. Takes about an hour to kick in and once it does sit back and relaxxxxxxxx
10/01/2023
Alana H.

US
Outstanding product
We were hesitant to try but it tasted delicious and gave a crazy head high. It did linger into the next day so I'll be a little more careful next time.
10/01/2023
Michael M.

US
THCP REVIEW
Based on reviews for the new THCP blends I was eager to give it a try. My experience didn't measure up to those reviews. Not as strong a body high, which I look for in my gummies as an amputee & dialysis patient. The mental effects - clarity, focus & imagination were excellent. I would definitely order this product again but the price makes that prohibitive on my very fixed income. I will probably stick with the Delta - 8 Blue Dream berry gummies as they check more boxes for me. As usual the flavor of the new Mango Punch was wonderful. Your MWV but in total a good product. 👍😎
09/30/2023
Michelle B.

US
Pleasant feeling
This gummies produces a serene and relaxing experience. Very laid back. Perfect for cuddling on the couch.
30 DAY MONEY
BACK GUARANTEE
If for any reason, you don't absolutely love THESE,
we will give you a full 100% hassle-free refund.